Interested in becoming a Registered Canadian Reflexology Therapist, RCRT?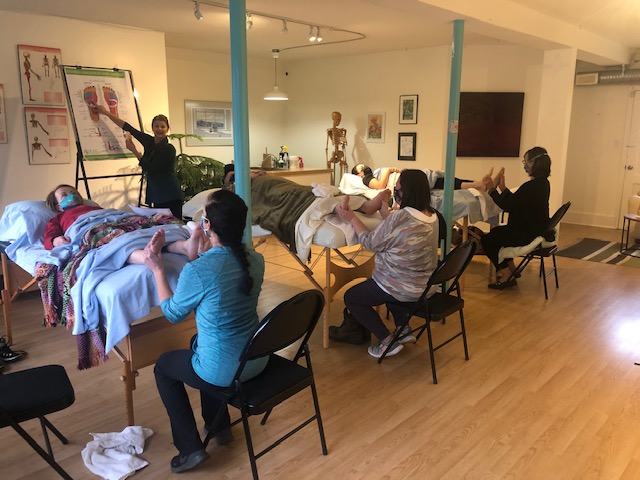 Join me this Summer and Fall for the virtual/online training program along with a 3 day practical hands on training for the Core & Foot Reflexology certification.
Course Details:
7 week online / virtual training program with instructor***
2 hours weekly, (6:30 pm to 8:30 pm PST)
3-day in class/onsite practical training session in Victoria, BC.
Start studying today! Receive manual, workbook and 2 charts upon registration / $500.00 deposit
Self paced study: Minimum 50 Case Studies after practical training
Written exam: Monday 
Review class – online – after completing 25 case studies
Practical exam: After completion of 50 case studies – set at your own pace
Upon completion of the course you will receive a West Coast Reflexology Core and Foot Reflexology certificate.
Join Michele Mork, Licensed Canadian Reflexology Teacher, LCRT & full time practicing Registered Canadian Reflexology Therapist  RCRT (She works out of The Reflexology Experience Clinic) for weekly 2- hour virtual meetings 6:30 p.m. to 8:30 p.m. (PST) where you will learn about Reflexology Theory, Protocols, Anatomy & Physiology and Systems of the Body. This is the Core course with the Reflexology Association of Canada, RAC.
The next step is to complete the practical 3 day Foot class in Victoria B.C.  for the hands on training where you will practice the Foot sequence training, while reviewing theory, complete and receive 6 reflexology treatments (with supervision) and take the written theoretical exam on Monday morning.
The next step is for you to continue your practical studies with completing 25 case studies (giving 25 foot treatments and documenting). Once you have complete 25 case studies, the class will meet virtually for a review class. The date will be determined by the class. Once your case studies have been reviewed, you will continue with your practical self paced practical studies.
After you have completed a minimum of 50 case studies you may book your practical exam with Michele. Upon a successful practical exam you will receive a Core & Foot Reflexology Certification from West Coast Reflexology.
To receive your RCRT designation you are required an additional exam thru RAC, Reflexology Association of Canada. For more information please go to their website: https://www.reflexologycanada.org/en/rcrt-exam/
TUITION COST: $1795 + GST
($500 deposit required to secure your spot. Tuition can be paid in lump-sum or instalments)
Registration Package at:
http://www.westcoastreflexology.com/registration-information/
Once I have receive your registration forms and deposit, I will send you your manual, workbook, and charts to start studying immediately.
Summer SESSION – Course begins Wednesday May 19th, 2021 at 6:30pm
(6:30 pm. to 8:30 pm) – Virtual Training
Wednesday May 19
Wednesday May 26
Wednesday June 2
Wednesday June 9
Wednesday June 16
Tuesday June 22
Tuesday June 29
Wednesday July 6
Saturday, Sunday & Monday – In person practical training (Victoria B.C.)
Saturday July 17
Sunday July 18
Monday July 19
TUITION COST = $1795+ GST
To learn more about Reflexology Training with Michele Mork visit:  http://www.westcoastreflexology.com/courses-and-workshops/
***In order to participate in this course you will need a computer, tablet or mobile device and strong, steady Internet connection. Course is delivered via video conference using ZOOM app.
---

Interested in learning more about the Reflexology Association of Canada, RAC and how to become a RCRT click here: https://www.reflexologycanada.org/en/