The Certified Foot Reflexology course is a combination of online training and hands-on practical training program in Foot Reflexology using the Reflexology Association of Canada's course material. Upon completion of this course you will receive a professional certification as a Registered Canadian Reflexology Therapist (R.C.R.T.)
To receive your RCRT designation you must pass a separate R.A.C. RCRT examination (see note below).
Click here to learn more about the Reflexology Association of Canada.
CERTIFIED FOOT REFLEXOLOGY COURSE INFORMATION
Pre-Requisite
You must be 18 years of age or older and/or completion of Grade 12
Purpose
The purpose of this training course is outlined in the following objectives:
To gain a theoretical understanding and hands-on experience of how the body systems function under the heading of anatomy and physiology/patho-physiology.

To learn how to stimulate the areas of various reflexes on the foot (using the foot charts / body maps).
To achieve a high national and international standard of practicing reflexology.
Course Objectives
Understand the reflexology principles
Increase knowledge about anatomy and physiology as it relates to reflexology
Understand the holistic functions of body systems
Introduction to the reflexology chart and how reflexes are mapped
Learn how to simulate reflexes for a safe, effective therapeutic treatment
Gather the information required to be prepared for practical reflexology courses
ONLINE – THEORY COURSE CONTENT
History and Theory of Reflexology
Historical and theoretical overview and background of Reflexology
The healing crisis and how it affects the client and the healing process
Structure and function of the foot
How and why reflexology works as a therapeutic treatment
Zone and neural pathways of the body and related terminology
Biomechanics of the Foot & Foot Assessment Techniques
Identification of foot conditions and their origins
Assessment of the overall structure and condition of the foot
Foot terminology
Completing a Reflexology Health Record
Client-Practitioner interview process
Reasons for completing of a health record
Documenting a treatment session
Anatomy and Physiology
Covers an introduction and explanation of the anatomy and physiology of the organ systems in the body, conditions, terminology and how to locate the reflexes on the foot that correlate to each system. The systems include:
The Endocrine system
The Digestive system
The Urinary or Renal system
The Respiratory system
The Cardiovascular system
The Immune and Lymphatic system
The Reproductive system
The Musculoskeletal system
The Nervous System
Key Areas of Emphasis for Specific Conditions in Reflexology
Explanation and breakdown of each condition and the related systems
Reflexes commonly affected within each condition
Treatment guidelines such as providing a healing environment, maintaining a hygienic practice, what to do before and after a session, the method, pace and technique of a full reflexology treatment session.
Business and Financial Information
Health and insurance plans
Code of Conduct & Ethics
Confidentiality
Advertising & multi-media marketing
Professionalism
Successful business operations
IN-PERSON – PRACTICAL TRAINING COURSE CONTENT
Learn proper foot reflexology therapy treatment sequences
Learn how to simulate reflexes for a safe, effective therapeutic treatment
Learn proper therapy ergonomics and hand positions while performing treatments
Learn how to properly complete a client intake form and case study
Complete a minimum of 60 practical Case Studies
Review theoretical and practical course content in order to complete the written exam
Training will also include:
R.A.C approved reflexology methods
Relaxation techniques
Standards of practice (developing treatment plans, session documentation, assessment, charting & evaluation)
Method, pacing, technique and finishing
Treatment sequences
Proper ergonomics and hand positions for therapists
Course Breakdown
ONLINE (Zoom) classroom hours = 14 hours
IN-PERSON classroom hours = 32 hours
Workbook practice = 30 hours

*Practicum of 60 case studies = 120 hours

Written exam = 2 hours
**Mandatory In-Person Review classroom hours = 5 hours
Practical Exam (completed within 1 year from the last day of the in-person training) = 2 hours
Receive a Foot Reflexology treatment by a R.A.C Certified Therapist, RCRT – (Please keep a copy of the receipt or provide a confirmation letter including their RCRT membership number)
*Foot Reflexology Practicum / Case Studies – The purpose of the Practicum is to develop treatment plans consisting of Health Records, session documentation, assessment documentation and progressive charting and evaluation for each practice client. The student must provide the examiner of the practical exam at least 60 sessions for examination and evaluation. The practicum should include a minimum of 6 clients. There shall be a minimum of 3 sessions for each client. These must be started after the last day of the practical class and the student shall have 1 year from the last day of the class to complete these.
**Mandatory Review – The Mandatory Review must be completed before you can take the practical exam. A 5-hour mandatory review is required after completing 25 out of your 60 case studies. At this time we will go over any questions you have, review all recordings of your case studies, and repeat a full treatment. Each student must come prepared to present a case study. For those students who are unable to attend, there may be the option to attend by Zoom. When a student has successfully completed a Mandatory Review Class they will be allowed to charge a maximum of $20.00 for the each of the remaining case studies. In order to ensure protection for you and the client, student liability insurance is required if you are charging a fee for service.
Once you have successfully passed the written exam, review class and practical exam, you will receive a Certificate of Completion as a certified reflexologist with West Coast Reflexology. This certification is recognized nationally and with the Reflexology Association of Canada.
Additional Fees
Additional fees are required if you want to receive the Registered Canadian Reflexology Therapist (R.C.R.T.) designation and to join the Reflexology Association of Canada (R.A.C.).
Cost
$2058 ($500 deposit required to secure your registration)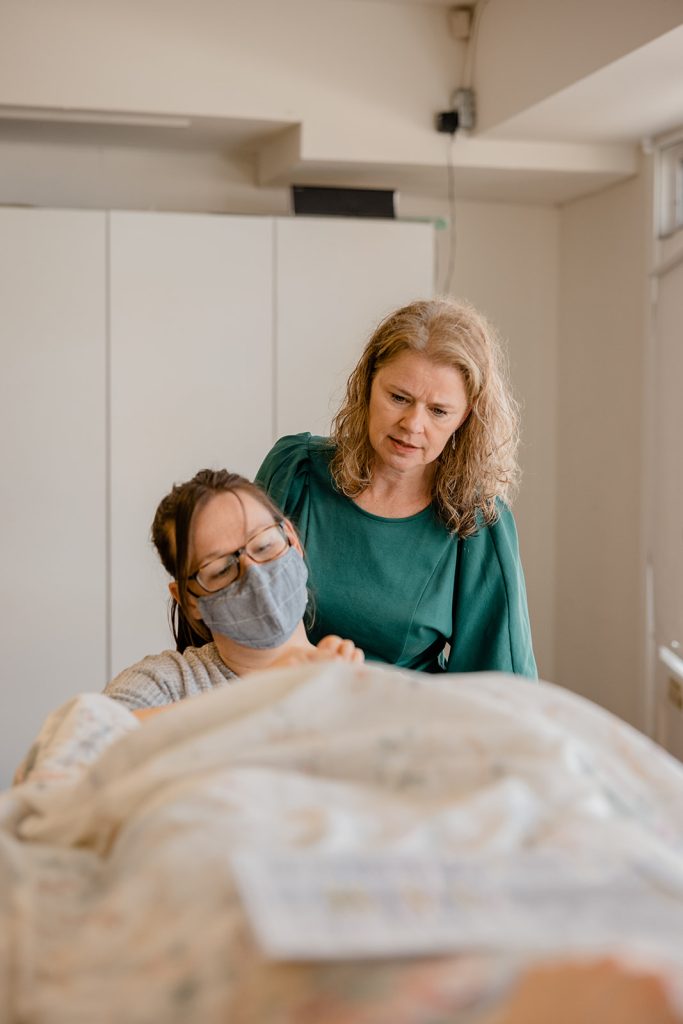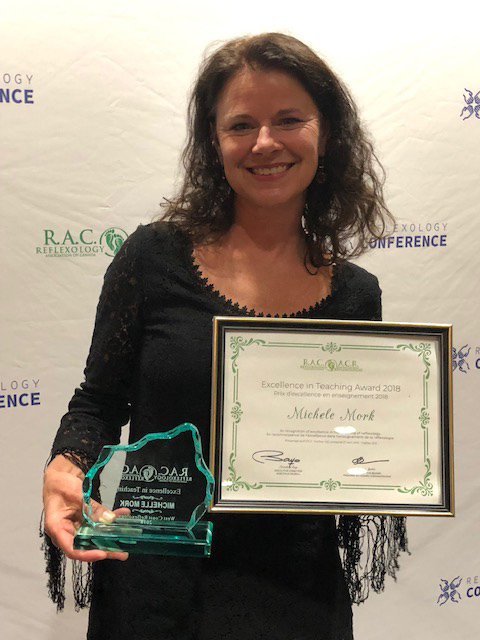 Michele Mork, Licensed Canadian Reflexology Teacher, was awarded the RAC Excellence in Teaching Award in 2018.