Register now!
Interested in becoming a Registered Canadian Reflexology Therapist (RCRT)?
Join me this Spring for my virtual/online training program.
NOTE: Register ASAP if you want take the course beginning February 3, 2020!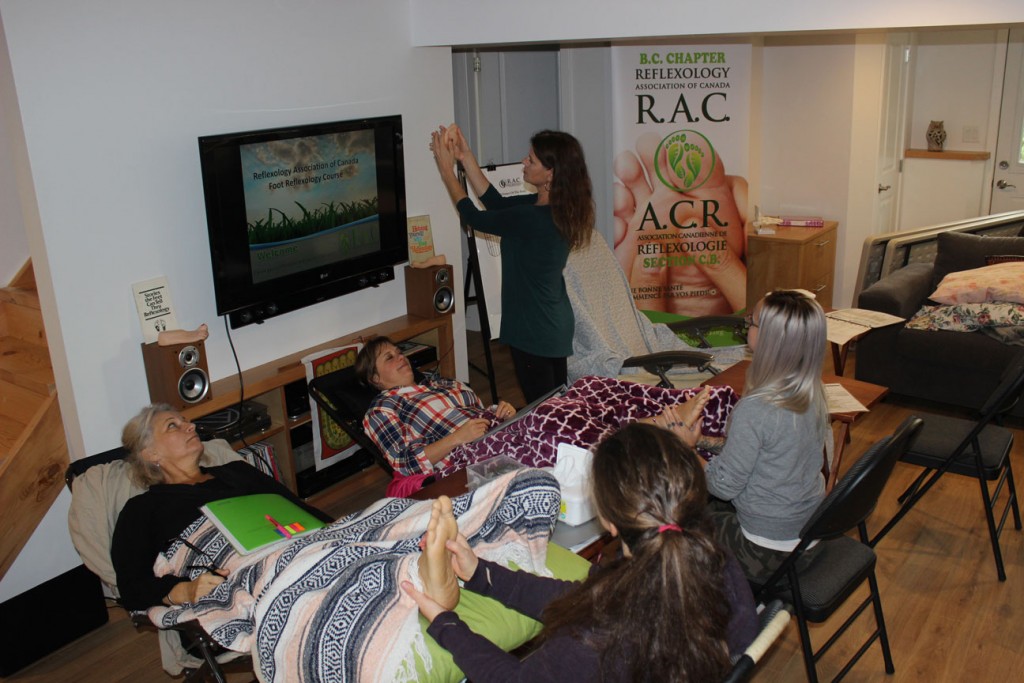 Course Details:
7 week online / virtual training program with instructor***
2 hours weekly, (Mondays 6:30 pm to 8:30 pm PST)
One 3-day in class/onsite practical training session (Friday, Saturday, Sunday)
Receive manual & workbook upon registration
START DATE: Spring 2020 Course begins Mondays, February 3 @6:30 p.m.
Join Michele Mork, Licensed Canadian Reflexology Teacher (LCRT) & practicing Registered Canadian Reflexology Therapist (RCRT) for weekly 2- hour virtual meetings on Mondays from 6:30 p.m. to 8:30 p.m. (PST) where you will learn about Reflexology Theory, Anatomy & Physiology and All Systems of the Body. This is the Core course with the Reflexology Association of Canada. Then come to Victoria B.C. on on Friday, April 3rd, Saturday, April 4th and Sunday, April 5th for the onsite training where you will practice hands-on Foot sequence training, while reviewing theory, complete 5 reflexology treatments (with supervision) and take the written theoretical exam on Sunday morning.
TUITION COST: $1795 + GST
($500 deposit required to secure your spot. Tuition can be paid in lump-sum or instalments)
FOR MORE INFORMATION OR TO REGISTER CONTACT MICHELE MORK AT 250.920.8687 or email info@westcoastreflexology.com.
Course Dates of Note:Course begins Mondays, February 3, 2020 at 6:30pm
Mondays (6:30 pm. to 8:30 pm) – Virtual Training
February 3, 2020
February 10, 2020
February 17, 2020
February 24, 2020
March 2, 2020
March 9, 2020
March 30, 2020
Friday, Saturday & Sunday – Onsite Training (Victoria B.C.)
April 3, 2020
April 4, 2020
April 5, 2020
To learn more about Reflexology Training with Michele Mork visit:  http://www.westcoastreflexology.com/courses-and-workshops/
***In order to participate in this course you will need a computer, tablet or mobile device and strong, steady Internet connection. Course is delivered via video conference using ZOOM app.