West Coast Hot Stone Therapy is a massage given with heated smooth stones and warmed oil to melt all the tension away. A  combination of stones from our west coast and smooth basalt stones are placed on your body's energy centres and tense muscles. The deep penetrating heat and weight of the stones ease muscles and increase blood circulation. Classic European massage techniques are used with the smooth heated basalt stones to help release muscles tension while increasing circulation and lymphatic drainage. This massage is a complete tip of your toes to the top of your head luxurious treatment.
(Please Note: Hot Stone Massages are only available seasonally from October to April) 
One hour hot stone massage – $105.00
90 minute hot stone massage – $185.00
Plus 5% GST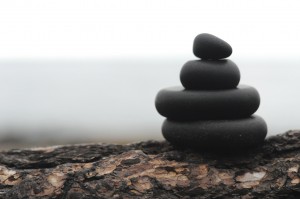 West Coast Hot Stone Reflexology Therapy is using heated stones to warm the feet and legs for those cold achy feet and bones on cold days. A combination of reflexology and massage is used from the hip to the feet using smooth basalt stones. The heated stones help ease the muscle tension, increase circulation to the feet and warmth to the bones. Popular gift for runners, diabetics and those with cold feet.
One hour Hot Stone Reflexology – $105.00
Plus 5% GST
Gift Certificates Available
Where did Stone Massage originate?
Hot stone massage's origin can be traced back  5000 years to India, with the ancient healing tradition of Ayurveda. According  to some researches, this therapy originated from those healers who have used  rocks from the river beds and warm them in either hot water or hot coals before  using them to treat any feeling of discomfort in the body.  The hot stones were utilized in concurrence  with the Marma points.
The heat from the stones caused an increase in blood circulation  to the area and encouraged the release of the healing oils from the  leaves. Traditional Lomi Lomi (Hawaiian massage) goes further and applies  heated stones directly to the body. Originally Hawaiian La'au Lomi Lomi lava  rock balls were also used to clean or scrape the skin following the traditional  massage.  At times two stones were tapped  together against the physical structure to promote deep tissue vibrational  healing. The lava stone was utilized as a symbol for healing and protection.
The healing  practices of curanderas, of South America, and other women caregivers often  included dealing with disease as well as pregnancy and childbirth. These Native  folk healers used heated stones to diminish the discomfort of menstruation, and  the application of cold stones to slow bleeding after labor. Some sources cite  instances of cultures in which women believed that holding stones during labor  added to their strength and endurance.