For the 2022 calendar year I will be offering combined Core + Certified Foot Reflexology course online as a 7 week virtual / video conference class with a 4 day practical class in Victoria, BC. After completing the course you will receive a certificate to be a certified reflexologist. This course is ideal for those that are wanting to learn how to complete a full reflexology treatment and for those who want to continue their studies to receive professional designation as a Registered Canadian Reflexology Therapist (RCRT).
Benefits to taking my Core + Certified Foot Reflexology COMBO Course
The Virtual / Online course allows you to study from your own home, plus  4-days of in-class training
Completion of course requirements provides you with the skills required to apply to have your RCRT National Recognition
Start your studying today! Once you have confirmation of registration and your deposit is received,  your manual and workbook will be sent to you within 10 days.  Registration link 
Training by experienced Licensed Canadian Reflexology Teacher (LCRT), who is also a practicing and thriving RCRT with over 12 years of business experience
Students provided with additional online training and study resources (eg. Quizzes & Worksheets )
Students provided with access to Video Demonstrations of sequences & techniques
Reflexology is a natural healing art that requires you to be hands on connecting to your clients. Therefore in order to provide hands on training I limit my class size to a maximum of 8 students. Please note that courses with less than 4 students registered may be canceled. In the case of a cancelled course, pre-registered students may transfer their registration to a future course session.
Please be sure to register early so that you can receive your Manual and Workbook in advance!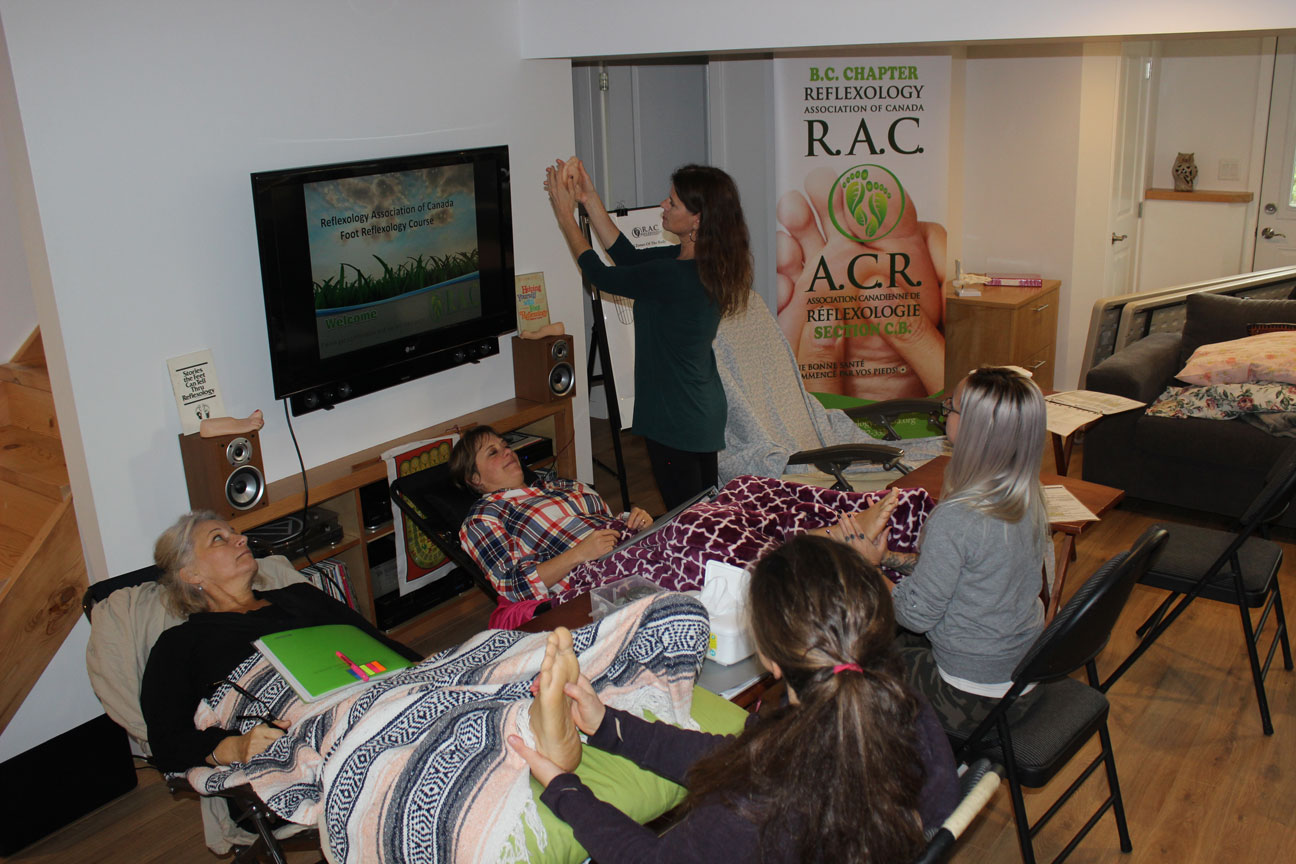 2022  – ONLINE / VIRTUAL TRAINING & PRACTICAL CLASS
Core + Foot Reflexology COMBO Course
Course Details:
7 week online / virtual training program with instructor***
2 hours weekly, (6:30 pm to 8:30 pm PST)
Four day in class/onsite practical training session (Friday, Saturday, Sunday, Monday)
Receive manual & workbook upon registration
Mandatory review class after completing 25 case studies (Case studies are completing a foot treatment – usually done on family and friends at your own pace)
Join Michele Mork, Licensed Canadian Reflexology Teacher (LCRT) & practicing Registered Canadian Reflexology Therapist (RCRT) for weekly 2- hour virtual meetings by video conference from 6:30 p.m. to 8:30 p.m. (PST) where you will learn about Reflexology Theory, Anatomy & Physiology and All Systems of the Body. (This is the Core course with the Reflexology Association of Canada). Then come to Victoria B.C. for the 4 day practical training. where you will practice hands-on Foot sequence training, while reviewing theory. During the onsite training you will complete reflexology treatments (with supervision) and take the written theoretical exam on Monday morning.
2022 COURSE START DATES:
Fall Session:
Core & Foot Certification Course begins on Monday September 19th, 2022 
6:30pm – 8:30pm PST via zoom.
Wednesday evenings:
– September 21 / 28
– October 5 / 12 / 19 / 26 & November 2nd
Friday, Saturday, Sunday, Monday – In person practical training (Victoria B.C.)
Friday November 18 / Saturday November 19 / Sunday November 20 / Monday November 21
Review Class: Sunday February 19th, 2023
TUITION COST = $1960.00+ GST
To learn more about Reflexology Training with Michele Mork visit:  http://www.westcoastreflexology.com/courses-and-workshops/
I am happy to have a phone consultation with you to ensure this is the right program for you.
2023  – ONLINE / VIRTUAL TRAINING AND PRACTICAL CLASS
January 2023 – Date TBD – Practical Class March – Review Class June
---