After the long winter cold and flu season and with spring allergens in the air, now is an excellent time to help your body to detoxify.
Did you know you can easily drain away toxins using some simple Facial Reflexology Dien Chan techniques on a daily basis?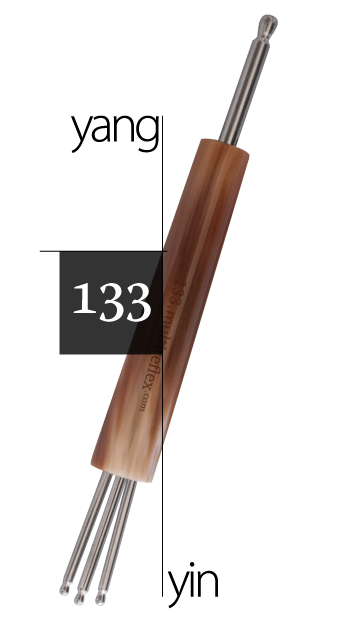 Use Tool #133 – Detector l Comet
(Tool #133 – $30.00. Available for purchase. Contact Michele at 250.920.8687 or info@westcoastreflexology.com to place your order)
The comet is a detoxifying multireflex tool used to regain balance in facial reflexology treatments. The thick end of this detector is used for stimulation of delicate skin.  Its triple detector end has a cooling effect and can stimulate larger surfaces on the face. The basis behind many detoxifying treatments is to unblock the lymphatic system. Use of the comet detector can serves both to prevent and treat multiple disorders.
Technique:
Complete the following steps using the thick end of the detector (single prong), then move through the steps again using the triple detector.
1)    Inner corner of the eye – On the side of the nose gently sweep down from the inner corner of the eye towards the inner edge of the eyebrow. Start on the left and work on both sides.
2)    Nose Sweep – gently sweep up and down the centre of the nose about 30 times.
3)    Nasal Wings – In the creases of your nose, sweep up and down 30 times from the top of the nasal wing to the bottom of the nostril. Start on one side of the nose first, then do the other.
4)    Smile Lines – Sweep up and down along the rictus/smile lines on both sides. Begin at the top where you smile lines meet your nasal week and sweep downward to the corner of the mouth. Do this 30 times each side.
5)    Chin Crease – Sweep the chin along the horizontal crease 30 times.
6)    Ears – Sweep around the ear in a full circle, coming from the back to the front about 30 times. Do this on each side.
Check out an instructional video on how to do this:
Dien Chan multireflexology tools are available for purchase from Michele Mork. Call 250.920.8687 or email info@westcoastreflexology.com to order yours.
To see a complete list Dien Chan multireflexology tools and prices go to: westcoastreflexology.com/multireflexology-tools