With cold and flu season upon us it is vital to do all we can to keep our immune system functioning at it's best.
doTERRA has an amazing proprietary essential oil blend called "On Guard" to help with jus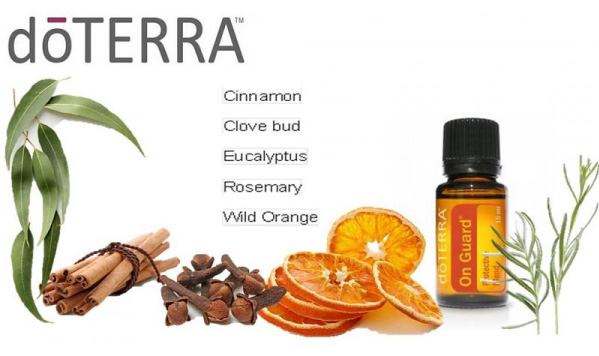 t that.
doTERRA On Guard protects against environmental and seasonal threats with essential oils known for their positive effects on the immune system. A combination of wild orange peel, clove bud, cinnamon bark/leaf, Eucalyptus Leaf and Rosemary Leaf/Flower, doTERRA On Guard :

supports healthy immune and respiratory function
protects against environmental threats
supports the body's natural antioxidant defences
promotes healthy circulation, and
has an energizing and uplifting aroma.
doTERRA On Guard can be taken internally on a daily basis to maintain healthy immune function and support healthy cardiovascular function. It can also be used on surfaces throughout the home as a non-toxic cleaner. When diffused, doTERRA On Guard helps purify the air, and can be very energizing and uplifting.
Some suggested uses:
Add two to three drops in a veggie capsule for an immune boost.*
Add to water for an effective all-purpose surface cleaner.
Soak sliced apples in water and a few drops for a healthy, immune-boosting snack.*
Combine a few drops of doTERRA On Guard with Fractionated Coconut Oil for a natural hand cleanser
For more information about doTERRA On Guard or any other doTERRA products contact: Michele at 250. 920.8687 or westcoastreflexology@gmail.com.