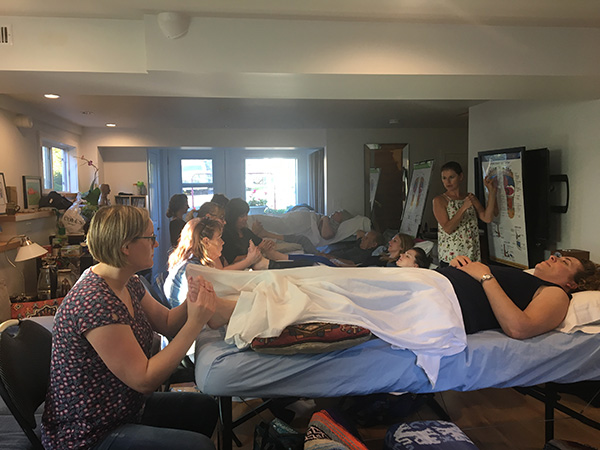 Once again I am offering training for individuals interested in becoming a Registered Canadian Reflexology Therapist (RCRT) with the Reflexology Association of Canada (RAC). From June 3rd to 9th I will be teaching a 1-week intensive Core + Certified Foot Reflexology COMBO Course in Victoria B.C.  The COMBO course is ideal for  those that are wanting to receive professional designation as an RCRT.
Benefits to taking my Core + Certified Foot Reflexology COMBO Course:
Week long intensive allows you to complete 40 hours of in-class training in one week
Completion of course requirements provides you with the skills required to apply to have your RCRT National Recognition
Start your studying today! When you have confirmation of registration,  your manual and workbook will be sent to you within 10 days. The workbook must be completed before the first day of class. Note: You must register a MINIMUM of 2 weeks before the class to complete the workbook and pre-reading.  Registration link 
Training by experienced Licensed Canadian Reflexology Teacher (LCRT), who is also a practicing and thriving RCRT with over 8 years of business
Students provided with additional online training and study resources (eg. Quizzes & Worksheets)
Students provided with access to Video Demonstrations of sequences & techniques
Facebook Group for current & past students to share information and resources
COURE DETAILS:
Course # 0603F-19-MM3 – June 3rd – 7th (Monday to Friday / 9 am to 6 pm)
Written exam – Sunday June 9th – 10am – Noon – 4 spots available
Total Course Hours = 171.5 hours (40 in class training hours)
TUITION COST = $1795+ GST
Please feel free to contact Michele Mork you have any questions: info@westcoastreflexology.com or 250-920-8687.
For more information and details about Reflexology Courses visit: http://www.westcoastreflexology.com/courses-and-workshops/